Skyrocketing your company
online presence
you just need to fasten your seat belt and enjoy the ride.
Launching in T minus 10… 9… 8…
DigitalRocket is a premium shuttle service to your company online presence. We prepared an extensive all-in-one bundle of products and services for your smooth and carefree journey to the digital space station. When you reach your final destination, your company or brand will be fully equipped, prepared and ready to plug into the digital future. All you need is to sit down, relax and fasten your seat belt while our in-house creative team do all the work.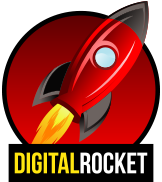 Who is it for?
All size companies
Start-ups
Entrepreneurs
Associations
Government agencies
Brands
Projects
Status analysis
We are going to check what you already have or don't have and create a snapshot as a basis for all further steps.
Brand management
Your new image - from visual identity to the marketing plan in 360° view. A whole new dimension for your brand.
Visibility
We will make your business stand out from the crowd and reach out for your clients with the clear message about your portfolio.
Marketing campaigns
AdWords campaings, Facebook ads, Twitter... so many battles out there. No worries, we are trained to be your wingman.
Visual identity
Company logo design
Design of visual materials
Visual standards guidebook
Brand strategy
Brand manual
Marketing plan
Content strategy
Online presence
CMS powered website
Webshop with online payment
Exceptional hosting service
Digital marketing
AdWords or Facebook campaigns
Social networks campaigns
E-mail campaigns